Bringing the real world into the classroom
 The 4th YA workshop
DBT team – 27th of June 2023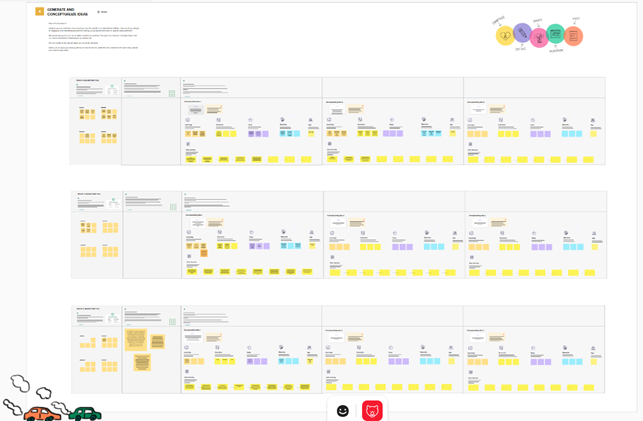 In the beginning of May our Youth Assemblies convened for the fourth workshop to continue the journey towards a greener future. This time, the focus was Clean Air and how to integrate real-life data and knowledge tools into education to build critical skills, knowledge and behavioral change through first-hand experience and participation.
For this, the young participants 'got their hands dirty' as they were challenged to simulate an app-based exercise in measuring air quality. As a warm-up, Jaume from CleanAir@School provided an expert presentation where we learned about air polluting particles, the causes of air pollution, and how air pollution affects our health and bodies. After the exercise, we challenged the young people to generate ideas for training courses that teachers can put into practice when teaching about air pollution and measuring local air pollution levels.
The exercise helped connect the theoretical and creative space facilitated in our workshops to real-world, practical situations and we were almost blown away by the discussions, feedback and ideas it fostered. The young participants have been a part of the GreenSCENT project for nine months, and it is easy to see that they are not new to collaborating and generating ideas for the project's education program. The outcomes from the workshop were both concrete and inspiring – some of the ideas laid a solid foundation for further development, and some were so elaborate they could be directly implemented by teachers today!
Each YA workshop introduces challenging topics and problem-solving, encourages reflection, and requires a forward-looking mindset to look beyond the challenges of the present to unlock the potential for the future. It is no easy task – but an incredibly important one! Inventing creative and interactive ways to engage with science and societal challenges in education cultivates curiosity, and student-driven data collection and experiments creates a sense of ownership that can increase motivation. This is vital in order to address the threats posed by air pollution. Once again, we are thoroughly impressed by the young participants' ingenuity, enthusiasm and ability to navigate such a complex topic.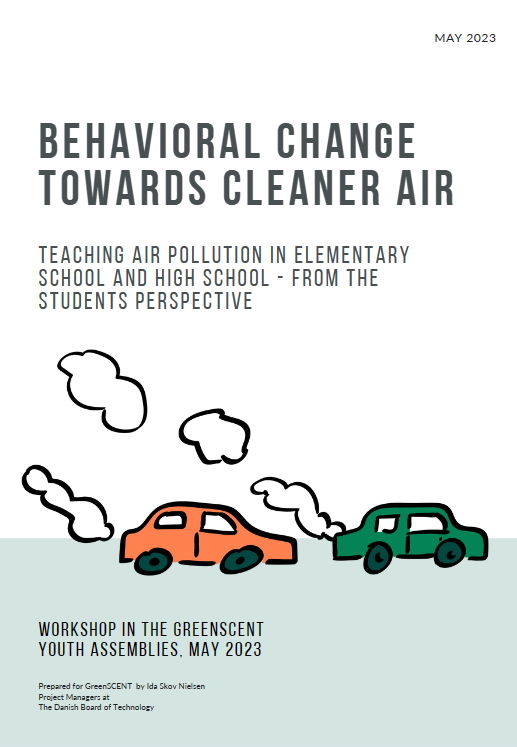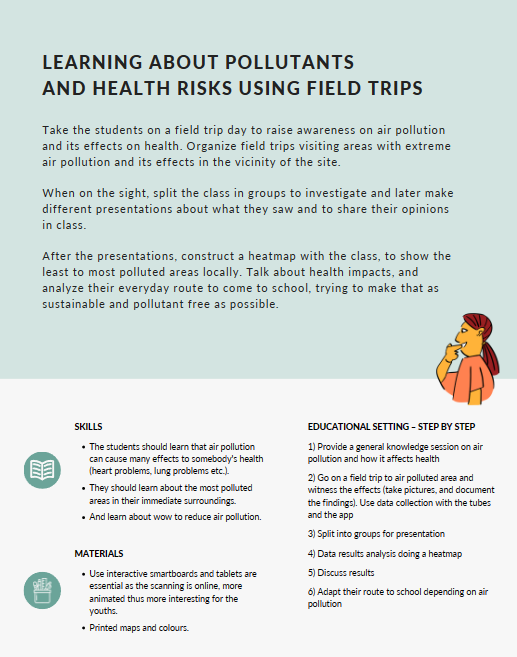 Excerpt from the workshop report, showing some of the ideas that were generated by the young participants. The idea presents an educational scenario incorporating the air quality measurement app developed by CleanAir@School.
Bringing the real world into the classroom – The 4th YA workshop