Environmental awareness and accessibility in video game
Alba: A Wildlife Adventure
Chiara Gunella and María Eugenia Larreina Morales, (UAB team) – 29th of September 2022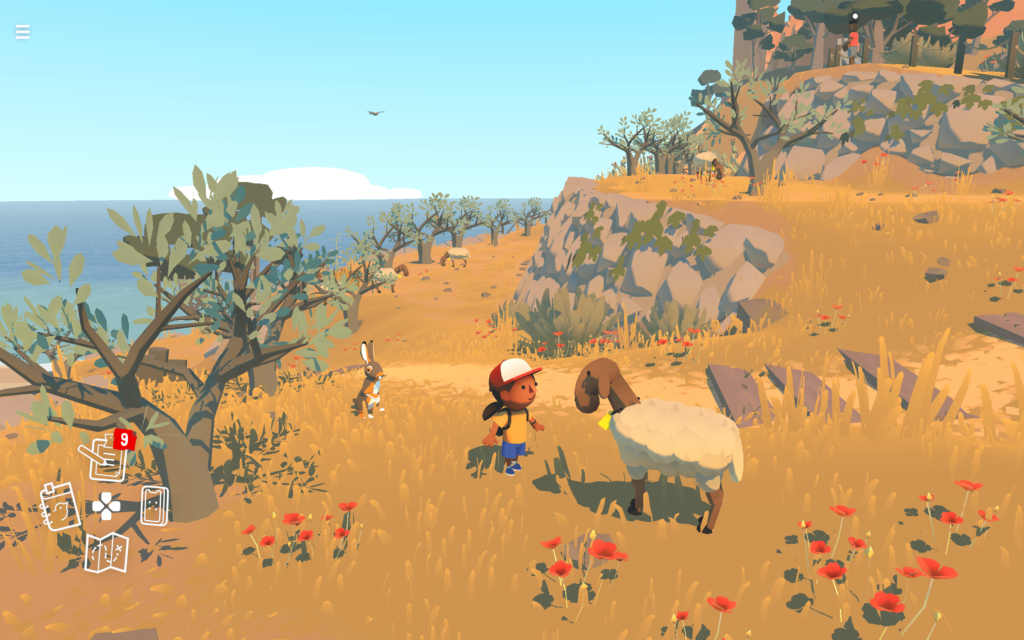 Alba: A Wildlife Adventure is a 2020 single player video game developed by the London-based studio Ustwo Games. The player controls Alba, a young girl who is visiting her grandparents on a Mediterranean island. While exploring, she finds a stranded dolphin and helps it return to the sea. This is the beginning of a series of efforts to protect wildlife, which includes identifying and taking photos of animals, cleaning up litter, and bringing life back to the island's nature reserve. As a casual game suitable for players of all ages, mechanics are based on exploring the open world, interacting with other characters, and finding objects.
This video game raises environmental awareness among players, motivating them to take action to protect the environment. The game illustrates how small, easy actions have a significant impact on saving the environment, such as taking pictures of endangered wildlife to raise awareness or collecting signatures against the construction of a luxury hotel in the nature reserve. All of these in-game actions can be applied in real life. There are a number of recognizable sites in the video game, such as The Sol Pub, Albufera, Palmar, and Serra Castle, which make it clear that the offline world and the online world are indeed connected.
Regarding Alba's accessibility, access to sound is not essential to progress in the game, although it may be used to locate some interactive objects or events. This is especially useful when a person does not have access to the visual channel. Instructions and dialogue are communicated through speech bubbles contrasting with the background and composed of short sentences, suitable for diverse cognitive needs. Additional visual, sound, and haptic cues alert the player of interactive elements. Controls, objectives and progress are displayed on the screen. However, controls are not remappable, although their sensitivity may be adjusted. Text size cannot be customised, which may decrease readability when playing on a big screen. There are no difficulty options nor tutorials, but the lack of time limits and multiple hints may help players complete the tasks. Moreover, there are no specific features for persons with visual disabilities, such as a screen reader or zoom options. 
Overall, this video game stands out because environmental activism is at the center of the game, so you try to find strategies to foster collective action for "saving the planet". In fact, for every download or purchase of the game, a tree is planted in the real world by Ustwo Games, in partnership with the reforestation charity Ecologi. Moreover, Alba has a child-centric approach, and players are able to express their agency at their own speed while responding to different environmental challenges. However, the game's potential educational impact is reduced by its accessibility barriers that prevent everyone from playing, mainly persons with visual and motor disabilities.
In summary, here are the pros and cons of environmental awareness and accessibility:
Environmental awareness:
PROS: The game encourages more eco-conscious behaviour offline and online through a learning by playing approach.
CONS: This video game has a very short duration. It can be played in 3-4 hours.
Accessibility:
PROS: Game design contributes to accessibility. Players may progress without sound and mechanics are not complex.
CONS: Lack accessibility for players with visual and motor disabilities.
References: 
Ustwo Games (2020). https://www.ustwogames.co.uk/
Games for Change (n.d.). Game Directory. https://www.gamesforchange.org/games/
Environmental awareness and accessibility in video games Alba: A Wildlife Adventure