GreenScent at the Learning Planet Festival 2023
Chiara Gunella (UAB) – 13th of February 2023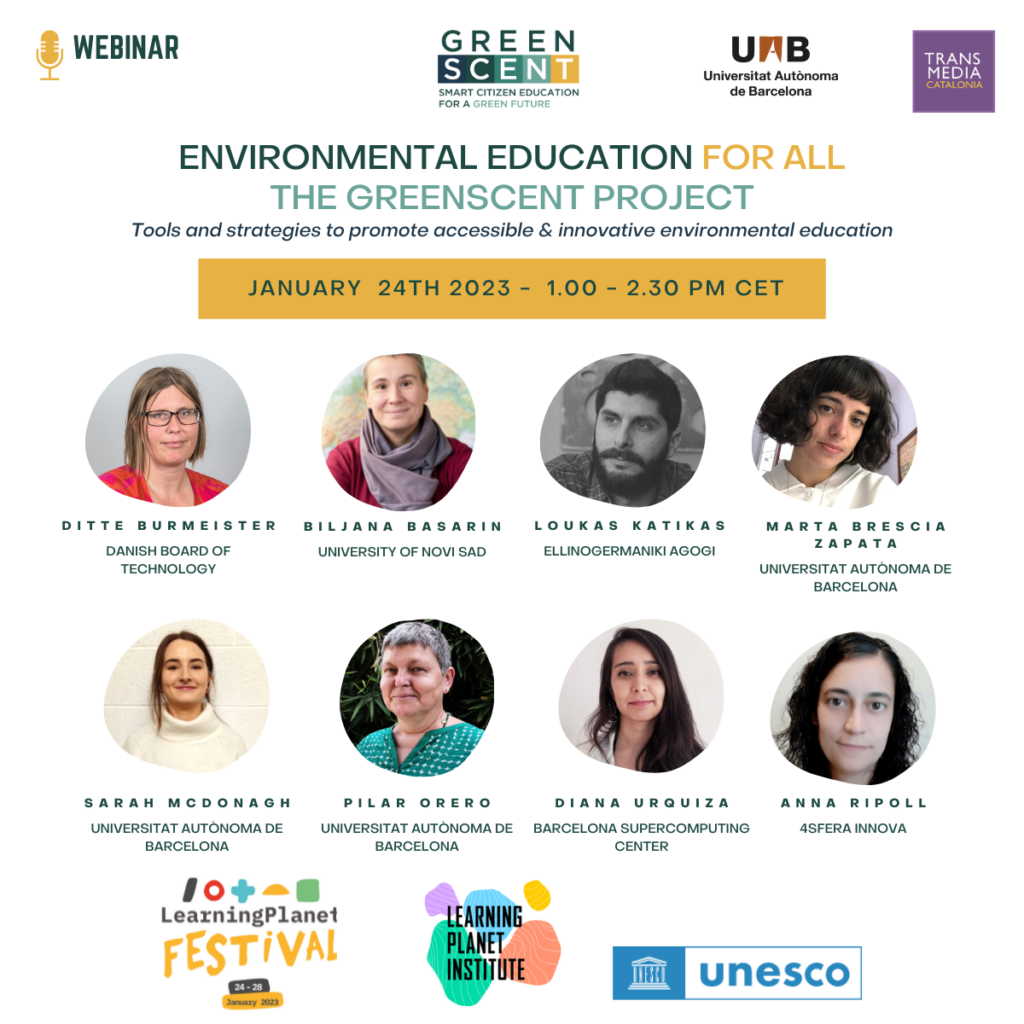 The 24th of January 2023 was a day of great significance as it marked the International Day of Education, which was adopted by the United Nations General Assembly in 2018 to recognize the crucial role education plays in promoting global peace and sustainable development. 
As part of this important celebration, the GreenSCENT project team, in collaboration with UNESCO and the Learning Planet Institute, organized an exciting and educational event to explore the vital role of Environmental Education for ALL.
The event was a virtual webinar that brought together a dynamic group of experts from various fields to discuss various thought-provoking topics related to environmental education. The webinar was moderated by Chiara Gunella, the communication officer of the GreenSCENT project from Universitat Autònoma de Barcelona, and it was an exciting opportunity for individuals to learn about the importance of environmental education and engage in meaningful discussions on this crucial topic.
The webinar was structured around a series of panels, each exploring different aspects of environmental education. For example, the panel Citizen science to understand air quality, featuring Anna Ripoll Roca from 4sfera Innova and Diana Urquiza from the Barcelona Supercomputing Center, discussed the role of citizen science in understanding air quality and environmental issues and how it can help children and youth understand complex environmental concepts. The panel Co-Creating 360 green stories, led by Sarah McDonagh and Marta Brescia Zapata from Universitat Autònoma de Barcelona, explored the use of digital storytelling as a tool to aid in understanding environmental issues.
The panel Youths: The Green Changemakers moderated by Ditte Burmeister from Danish Board of Technology (DBT) and Loukas Katikas from Ellinogermaniki Agogi , discussed how to ensure that young people's opinions are heard and valued in addressing environmental issues. Pilar Orero from Universitat Autònoma de Barcelona led a panel titled Environmental Education for ALL to examine ways to ensure access to environmental education for all individuals.
In addition to the panels, the ExtremeClimTwin project was also presented by Biljana Basarin from University of Novi Sad, Faculty of Sciences, who shared its objectives and goals. The webinar was full of inputs and practical examples, making it an extremely stimulating event.
For those who missed out on the International Day of Education webinar organized on January 24th, 2023 by the GreenSCENT project in collaboration with UNESCO and the Learning Planet Institute, you can now access the presentations by clicking on the links provided within the text.
Don't miss out on future events like this, and be sure to follow the GreenSCENT project on social media for updates and news. Join us in our mission to promote environmental education and sustainability for all. 
GreenScent at the Learning Planet Festival 2023