Recycling Programme at Royal School in Transylvania
Anda Badita (Royal School in Transylvania) – 29th of November 2022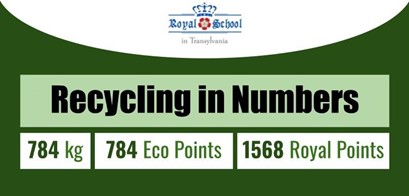 Over 35 000 kilograms of plastic and paper! This is the quantity recycled by the Royal School in Transylvania students since implementing the Recycling Programme in our school. This academic year we managed to gather more than 2 350 kilograms in less than 3 months. Our children, parents and teachers saved quite a few trees!
Not to mention that they are also involved in tree planting activities as often as possible.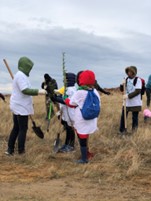 We focus on educating our community to reduce their carbon footprint as much as possible. Our main objective is to raise awareness and find simple day-to-day solutions!
When we first heard about GreenScent and were invited to join, we quickly decided to answer CHALLENGE ACCEPTED as it is fully in line with our beliefs and goals. Not to mention that through GreenScent we get the chance to be part of the future, contribute to a new curriculum, a new lifestyle, new European common values and approaches.
GreenScent is an amazing project that brought even more ecological responsibility and activities into our lives! We are excited to be part of the Youth Design Assemblies where 10 of our older students have already started their journey into ecological discussion.
We know how excited they are to be on this journey with Greenscent. Our students are conscientious and care very deeply about the environment. They want to inherit a world that is greener, fairer and more sustainable.
 Be part of the change!
Recycling Programme at Royal School in Transylvania