The Cleanair@School initiative has started!
The 4Sfera team – 12th of May 2022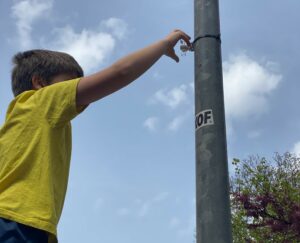 Hi, we have lots of news to share with you! 
As one of the partners in the GreenSCENT project, we at 4Sfera are working on the Cleanair@School initiative.
What is it?
We are piloting the use of passive sensors to be used by students, teachers, and parents to study the air quality in different areas of Girona. 
What is the aim of this activity?
The aim of this activity is to improve students', parents', and teachers' awareness of air pollution and its effects on health. Teachers, students and parents will see how traffic affects the quality of the air that they breathe. They will learn more about their potential exposure to nitrogen dioxide (NO2). By raising awareness of the issue of air pollution with students, parents, and teachers, we hope that this will make them change their behavior and find alternative ways of transport that do not pollute the air, such as public transport, walking or cycling. 
What has happened so far?
Last week we had our first project pilot involving 12 schools in Girona.
Students placed NO2 air quality sensors around their schools and their neighborhood. Most of the city was covered with more than 150 measuring points. In four weeks' time, all the sensors will be collected to be analyzed by an accredited laboratory. In mid-June, we will have the first results of piloting. The results will help teachers and students to understand our impact on air quality. This will be an initial step to propose a behavioral change to reduce air pollution..
It is exciting to see young students involved and intrigued by environmental issues!
Keep posted to know more about our project!
The Cleanair@School initiative has started!